Servers based on Intel® Xeon® Scalable Processors, the proccesor architecture known as "Skylake", have arrived! ion is producing 1U and 2U rackmount servers along with
pedestal/4U servers and high density half-U compute nodes. These servers feature much improved capability for NVMe SSDs and significantly higher memory bandwidth, along with options for more cores and higher clock speeds.
Intel® Xeon® Scalable Processors include a number of improvements. An expanded instruction set including Intel® Advanced Vector Extension 512, delivers significant improvement in some applications. Intel Volume Device Management, VMD, brings enhanced and improved capabilities with NVMe SSDs including Intel Virtual RAID on CPU, or VROC. Learn more about Intel Xeon Scalable Processors.
The new Xeon processors offer options with more cores at a wider range of standard operating frequencies and higher TurboBoost frequencies. Memory channels per processor have increased from 4 to 6 delivering a 50% boost in memory bandwidth. Higher end processors also increase memory speed from 2166MHz to 2400MHz or 2666MHz.
Intel® Xeon® Scalable Processors are grouped in four color-coded families: bronze, silver, gold & platinum. Moving up through those families brings higher core counts and/or frequencies as well as higher memory speeds.

ion's P1 server delivers all of the new features of Intel Xeon Scalable Processors in a 2-socket 1U server with a great deal of flexibility. A wide range of supported memory capacity is available with (6) channels per processor and (2) DIMMs per channel. Internally, the serverboard includes a pair of M.2 slots for 1-2 SATA or NVMe M.2 SSDs, ideal for boot devices. There is a choice of (4) 3.5″ SAS/SATA hot-swap drive bays or (8) 2.5″ SAS/SATA/NVMe hot-swap drive bays in the front. Compatible NVMe SSDs are already available at capacities up to 4TB, meaning that a single 1U server could include up to 32TB of high-performance, very-low-latency SSD storage. In addition to OCP I/O modules for future server NICs that do not consume a slot and a PCIe mezzanine connector for SAS/SATA/NVMe HBAs and RAID controllers, the P1 server has two available expansion slots supporting 16 lanes of PCIe 3.0 each. Beyond that, the server board includes (4) OCuLink connectors for direct support of NVMe SSDs. And the P1 server includes (2) 10Gb RJ-45 NICs on the serverboard

The ion P2 2U server expands both I/O and storage well beyond the limits of the P1 1U server. Like the P1 server, the P2 server also supports up to (2) Intel Xeon Scalable Processors with up to (24) DDR4 ECC RDIMMs, (2) M.2 SSD slots, (4) OCuLink connectors for NVMe SSDs, the OCP connector, the mezzanine storage connector and (2) 10Gbit Ethernet NICs. I/O capability is expanded with (7) PCIe 3.0 x8 slots plus (1) PCIe 3.0 x4 slot. (2) rear 2.5″ hot-swap SAS/SATA drive bays can be included, along with a large choice of front drive bays. For 3.5″ SAS/SATA drives there is a choice of (8) or (12) hot-swap drive bays. For 2.5 inch drives, the P2 server is available with (8), (16), or (24) hot-swap SAS/SATA/NVMe bays. 8-port NVMe Switch cards allow support of up to (24) NVMe drives for a massive total of up to 96TB raw storage with the 4TB NVMe SSDs available at launch in mid-2017. That density would bring a full 42U rack to over 2PB of NVMe storage.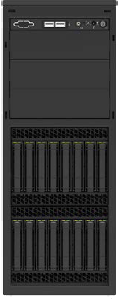 Flexibility in I/O and storage is maximized in ion's P4 server which is available in a pedestal design convertable to a 4U rackmount server. PCI express I/O is available through (3) x16 slots plus (3) x8 slots, all at PCIe 3.0 speeds. (4) internal drive bays can be replaced with either 4x 3.5″ bays or 8x 2.5″ bays in each of two positions. As with the P1 and P2 servers, 3.5″ bays support SAS and SATA while the 2.5″ bays support SAS and SATA and NVMe.
ion's PHD solution delivers (4) High-Density 2-socket server nodes in a single 2U chassis. Each node includes (2) 10Gb NICs and a PCIe 3.0 x16 low-profile slot and an 80mm M.2 slot along with (2) Intel Xeon Scalable Processors which each support (6) memory channels with one DIMM per channel. The 2U chassis is available with (3) 3.5″ SAS/SATA drive bays or (6) 2.5″ SAS/SATA/NVMe drive bays per node.